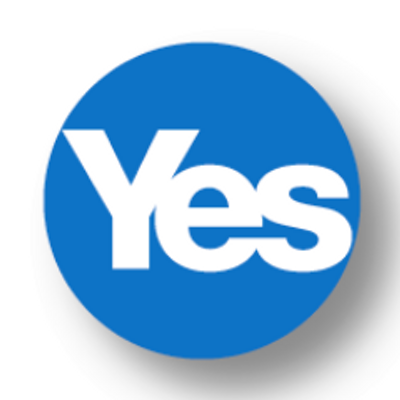 This has been a long campaign.  Three years ago, when plans for an independence referendum for Scotland were first being drawn up, my instinctual response was hostility.  I viewed myself as being British and didn't see the point in becoming independent.  As the campaigns properly began I found myself veering away from a clear 'No' position to becoming much more undecided until, about a year ago, I realised I had ended up broadly supporting the idea of independence, though still not feeling that strongly about it.  In the last couple of months – like most people in Scotland, I would imagine – my feelings have strengthened, and I have few doubts at all that I intend to vote 'Yes' on September 18th.  Yet I do sometimes still ask myself: why exactly do I plan to do this?  It isn't a question I can have a simple answer to as there are many reasons, which I hope to detail here.  But first, just to clear up any confusion, I think it's helpful if I list the reasons that aren't drawing me towards a 'Yes' vote:
Nationalism.  A few times when I've told someone I plan to vote 'Yes', they've responded along the lines of "Oh no, you're a nationalist!"  To which I've had to reply "But I'm not a nationalist!"  I mean, I love Scotland and I'm very proud of it – it's my home – and I have no plans to emigrate elsewhere, but I don't see it as being superior to any other country.  The things I love most about Scotland – its tolerance, democratic institutions, culture and beauty – aren't unique to this one country, and can be said to be largely circumstantial; in fact, much of our democratic institutions in particular came from the Union.  If anything, I'm an internationalist; I believe in creating international bonds and cooperation with the rest of the world.  As I'll explain a bit later, this isn't incompatible with support for independence, but actually can go hand-in-hand with it.
Anglophobia.  This hopefully goes without saying.  If we're looking at ethnicity I'm three-quarters English, having had three English grandparents, while my mother herself is English.  The other quarter comes from Shetland, which probably has the least 'Scottish' background in the whole country.  Wanting to end a political union with England (alongside Wales and Northern Ireland) doesn't mean I want to break the cultural and economic unions which benefit us all; on the contrary, I hope these can be strengthened following independence.
Alex Salmond.  Hopefully also goes without saying.  I'm not a member of the SNP and, although I like him more than many of our political leaders (not difficult to achieve) I wouldn't want to see him continue as First Minister following independence.  I think it's regrettable that we're not seeing any prominent debates featuring other voices for independence, instead of simply Alex Salmond's party-political SNP view.
Now that's all cleared up, I'll launch into the main reasons that are causing me to support a 'Yes' vote:
Democracy.  This is the standard one you hear, but it's so important.  Essentially, I want Scotland to both get the government it votes for and have a national parliament that represents its views.  During the last fifty years Scotland has consistently voted Labour at the ballot box, yet has been encumbered with Conservative governments for over half this time, forcing disastrous decisions upon Scotland which our population have rejected.  The most recent examples are the 'Bedroom Tax' and privatising the Royal Mail, both of which Scottish MPs voted against but we've had to endure anyway.  We're powerless to change the government if we disagree with its policies; the only time our vote made a difference was in 2010, and that merely caused what would have been a Conservative majority to require a coalition partner that would essentially rubber-stamp many of its policies anyway.  There's been an undeniable political shift between Scotland and the rest of the UK during the last few decades.  Current polling suggests that the Conservatives and UKIP combined could get close to receiving over 50% of the vote nationally, yet linger at 25% in Scotland, where centre-left parties tend to dominate.  Why should we have to put up with governments making decisions for us we didn't vote for?



-I'll admit, there are decent counterarguments to this.  The first is that in a democracy we should accept the will of the electorate and not 'throw out toys out of the pram' when we lose an election.  I think this argument comes down to a fundamental difference of opinion towards Scotland's position in the Union.  As I see it, Scotland's participation in the Union has only ever been voluntary from the beginning, and we've never had any reason to remain within it other than the fact we benefit from it.  And make no mistake, Scotland 

has 

benefited from the Union immensely.  But it's my belief that, as a result of this divergence in political viewpoints, since around the 1970s the Union has no longer been of benefit to Scotland, instead holding it back from taking the more social-democratic path its electorate have been clamouring for.

The other argument goes that, with a strong Scottish Parliament within the UK, we can have the 'best of both worlds' that helps fix the democratic deficit Scotland faces.  This is also a good case, but I'm not convinced this vision could truly become reality.Almost 70%

of Scots want more powers for the Parliament, and I'm certainly one of them, but I have my doubts that we'll see any significant powers devolved in the event of a No vote.  None of the major parties'

promises

 would go as far as fully devolving tax and welfare to the Scottish Parliament, and they're not even bound to the promises they've already made (though I expect there'll be at least some limited further devolution – it would be utter stupidity to renege on these promises altogether).  Another factor is that Scotland never gets the opportunity to vote for these different visions of devolution, since only the Westminster government can devolve these powers and, as we've already established, the Scottish vote makes little difference to which party gets to form a government.  Only a 'Yes' vote can guarantee Scotland gets the powers that its population desires.

Scotland's Electoral System.  This may seem like a minor point, so it's possibly surprising that this is one of my main reasons for voting 'Yes'.  I've become so irritated by the two-party politics that have emerged in Westminster as a result of its First-Past-The-Post electoral system, where two increasingly identical parties seek to claim the centre ground and genuine opposition parties on both the left and right have no chance to win many seats.  Polls show 30% of the electorate will reject both the Conservatives and Labour, yet these other parties are unlikely to win more than around 7% of the seats.  This system stifles true political debate.  Scotland, in contrast, has a semi-proportional system which allows smaller parties to gain the representation they deserve.  Currently only the Scottish Green Party are represented, but in the past we've seen MSPs from the Scottish Socialist Party and even the Scottish Senior Citizen's Party.  To be clear, this isn't because Scotland is more progressive than the rest of the UK – we rejected electoral reform of Westminster alongside the rest of the country in 2011 – but the fact is, Westminster is unlikely to change anytime soon, whereas Scotland, for whatever the reason, has a working system now that will carry over into independence.  Simply put, I want my national parliament to represent all views, not just those of the two very similar parties.
Europe. As someone who is generally in favour of the European Union, I believe independence is the best route of safeguarding our membership.  The 'No' campaign have argued that independence may require years of delay as we have to seek membership all over again and, although I doubt it will truly be this difficult, I can't deny that is a possibility.  But the point is, this would only ever be a short-term difficulty.  The political will exists in both Scotland and the EU for us to become a member – no fewer than 86% of MSPs are from a party with pro-EU policies, while even against the UKIP surge 70% of Scots voted for pro-EU parties in the European Parliament election.  With this political will, whatever the procedure, Scotland will end up joining the EU eventually.  The real, long-term threat to Scottish membership comes from a Westminster that more and more is pandering to the UKIP agenda, where an in-out referendum in 2017 is a very real prospect.  This is another instance of Scotland's priorities diverging from the rest of the country; only 40% of the rest of the UK voted for pro-EU parties, and UKIP came first place in the last election compared to only fourth in Scotland.  This is backed by polls – only 29% of Scots support leaving the EU (with undecideds removed), compared to anywhere between 45% and 55% in the rest of the country.  What if, in a potential referendum, Scotland votes to stay in the EU but is dragged out by voters in the rest of the country?  This is why I believe independence is essential to safeguarding our place in Europe.
Immigration.  This is another issue where I believe Westminster's policies shame us all.  A further part of this pandering to the UKIP agenda I mentioned earlier is an almost unanimous agreement that immigration is a Bad Thing.  The major parties are tripping over one another in announcing ever more harsh and discriminatory policies against immigrants; only the Liberal Democrats and the Greens advocate treating migrants with respect and protecting their human rights, but we've already established that the UK's electoral system pushes these voices to the sidelines.  In Scotland, however, we have a government that appreciates the benefits immigrants bring to a country – not only through the incalculable cultural benefit of multiculturalism, but also in simple economic terms, even creating jobs in the long term.  Granted, Scotland's greater ageing population and sparse population gives it a greater need for immigrants than the rest of the UK, but even so there is little ground to oppose immigration in principle – and thankfully we have a government that recognises this.  It's my hope that an independent Scotland would introduce much more humane immigration policies.
Welfare.  People on benefits are perhaps the only group of people demonised more by the British press and politicians than immigrants.  Sure,there are problems with Britain's current welfare system – anyone can see that.  It's needlessly complicated and bureaucratic, for the large part.  Unfortunately, the current British government's reform policies are doing little to help the problems.  Backed by the right-wing press, Work and Pensions Secretary Iain Duncan Smith's policies seem intent upon labelling people in need of welfare as 'benefit scroungers', tarring everyone with the same brush and cracking down on everyone's benefits to target the minority who abuse the system.  The government propagates the myth than people on benefits could support themselves if they just found work and became less 'feckless', when in some parts of the country there just aren't enough jobs to be found, while also failing to recognise that structural poverty is much more complex than simply being unable to find a job.  We need a system that does recognise this and makes real efforts to lift people out of poverty.  Sure, there is no guarantee that Scotland would establish such a system, but from reading the Scottish Government's White Paper on Independence this seems to be the direction they have in mind.  A small point, but I was heartened to hear Alex Salmond refer to the issue as 'social security' in a recent debate – a phrase I doubt Iain Duncan Smith has uttered in his life.
Nuclear Weapons.  A fairly simple reason: Scotland is encumbered with Europe's largest stockpile of weapons of mass destruction, a matter of miles from its most populated city, against the wishes of its people.  Polls show a clear majority of Scots oppose Trident nuclear missiles, while our democratically-elected Parliament has consistently voted against Trident.  Yet we continue to have these weapons we don't want forced on our territory by successive British governments.  Even if you're in favour of nuclear weapons, you ought to recognise that given this strength of opinion they should not be based within Scotland.  Only a 'Yes' vote can rid Scotland of these weapons – even the Scottish Campaign for Nuclear Disarmament recognises this, and is actively campaigning for a 'Yes' vote because of this.
Republicanism.  Okay, this is a very minor point, but worth mentioning anyway.  For those of us who would prefer to see a democratically-elected head of state rather than one born into the job, Scottish independence provides an opportunity to see this reform happen later down the line.  The Scottish government's plans would keep the Queen as head of state, but I believe there is more likely to be a referendum in an independent Scotland than as part of the UK.  True, 60% of Scots support the monarchy (with undecideds removed), but this could easily shift in favour of republicanism, particularly if we end up with an unpopular monarch further down the line.  This is much lower support than in the rest of the country, where only 15% believe Britain should become a republic when the Queen dies or abdicates.  That said, if you do support the monarchy this isn't a reason to vote No; there are no immediate plans for Scotland to transition to a republic – this would require a further referendum where arguments from both sides can be given due consideration.  The point is, this is another instance where Scotland can become more democratic if independent, being able to decide for ourselves whether we wish to keep a monarchical head of state or not.
There are other smaller reasons I'm planning to vote 'Yes', but these are the main ones. Are you able to vote in the referendum?  Let me know which reasons are causing you to lean one way or the other!  Or if you live outside of Scotland, what do you think about the whole debate?
Also, here's a poll, just for funsies.